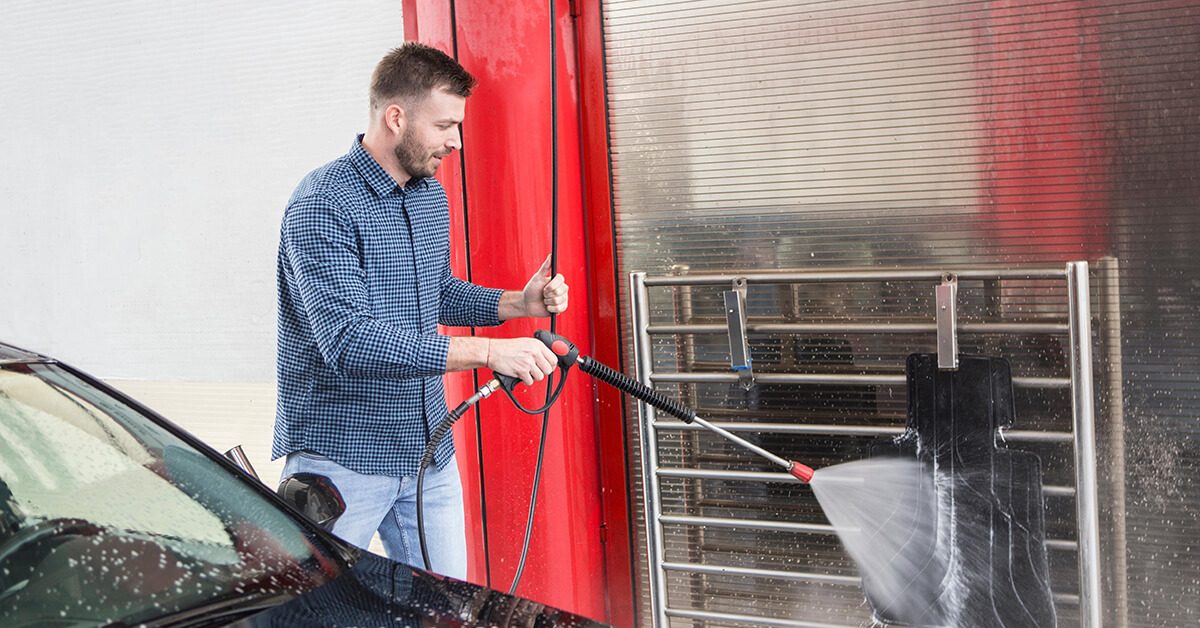 A Guide To Cleaning Your Car Floor Mats
While the molded carpet and floor mats of your car are made of absorbing materials, dirt will eventually accumulate, which will, over a long enough time, penetrate further into the fibers and make it a real-life nightmare for you to clean off. Even a protective rubber mat will not prevent your carpet from getting soiled forever. 
Let us now take a look at how you can restore your carpet and mats to their former glory! 
How to care for your car mats at the car wash?
When taking your car to the nearest self car wash for a routine clean-up, make sure to always finish your interior upkeep with the carpet and mats. Why is that, you might be wondering? Well, simply because tending other parts of your interior will generate dust and debris, which will ultimately fall onto your flooring mats. Surely you would not want to redo it all, would you? As long as you clean your car floor last, it does not matter whether you start the cleaning with your dashboard, your stirring wheel, or your seats.
Dust off your mats and carpet
When it is finally time for you to get down to your car floor, the very first step would be to wipe off any visible excess dust. Start with taking off the mats and shaking them vigorously outside your car. Then, the most time-saving means of going about finishing off the dusting in a thorough manner is with a vacuum cleaner. 
Wash and dry up your car floor mats and carpet
Dust and food crumbs are not the only culprits when it comes to what soils your car floor: spilled morning coffee or drinks, vomit stains, etc. But it is your shoes, and everything carried underneath them, which are the ones in direct and daily contact with your mats and carpet. In other words, everything you have stepped on before getting into your car will get smeared all over your floor mats.
Although advertised as a strong selling point, it is best not to throw your dirty mat in the washing machine, as not only there is a risk that you will damage it but moreover will most likely not do a better job at cleaning it than you would, did you wash it by hand. Roll up your sleeves and scrub energetically! You won't have a choice for your molding carpet anyway.
While there is an abundance of cleaning products in the form of sprays specifically designed for that purpose, you can very well mix a similarly-efficacious homemade cleaning solution yourself.
Homemade car mat cleaning solution
To eliminate the most tenacious stains, utilize a brush with rigid bristles, and with circular movements, work the following mix into the mat or carpet:
White vinegar
Dishwashing soap
Warm water
Steps to cleaning your car mat
To thoroughly clean your car floor, you will be needing:
A stiff bristle brush
A microfibre cloth
A vacuum cleaner
A basin
Some white vinegar
Some warm water
Some dishwashing soap
Once you have gathered all of the above:
Fill the basin with 200ml worth of warm water;
Pour 500ml of white vinegar into the basin;
Add the spoonful of dishwashing soap to the mixture;
Mix it all well; Take the mats off your car interior;
Shake them well to get rid of excess dirt;
Vacuum clean them to get rid of any remaining dirt;
Dip your brush into the cleaning solution and scrub the mats dynamically with it;
Make sure the solution foams for better washing;
Wipe them off with your microfiber cloth;
Do the very same for your carpet.
Once you have thoroughly washed them up, you can either leave your mats outdoors to dry or - should you own a garage -, place the mats back into your car and, leaving the doors open, let them rest for roughly ten hours. Otherwise, your car mats are best left alone overnight for proper drying.
CAUTION:
As a general rule of thumb, always remember to test out the product on a small portion of what you intend to clean. Let it sit and dry up completely to assess whether or not you want to use it any further.
In the case of liquid spillage on your car floor mat - particularly if it is made of velvet or carpet -, try to clean up the stain as fast as possible to limit its spread to deeper parts of the fiber.
Regularly cleaning your floor mats is key
The longer you wait before you decide to attend to your floor mats, the more exhausting the cleaning process will be next time you do, as dirt will have incorporated deeper into them by then. Therefore, rather than waiting for your carpet and mats to get filthy, you had better care for them more consistently. Doing so will spare you countless hours of heavy scrubbing while ensuring your floor mats have a longer lifespan. While as many as three times a year is a decent average to attend to it, the frequency depends mainly on the speed at which your car floor gets dirty.
Fitted car floor mats for greater style and easier cleaning
We hope to have given you a better understanding of the cleaning process! At Lux Auto Mat, we offer clients a large selection of high-end diamonds car mats for Toyotas, Chevrolets, jeeps, BMWs, and many other car models. Our custom-made protective luxurious non-slip polyurethane leather car mats are custom-fitted to give your car the look it deserves and your feet the stability they need when cruising around! Be sure to check out our catalog, and don't hesitate to shoot us a message for inquiries or any car mat care-related questions!