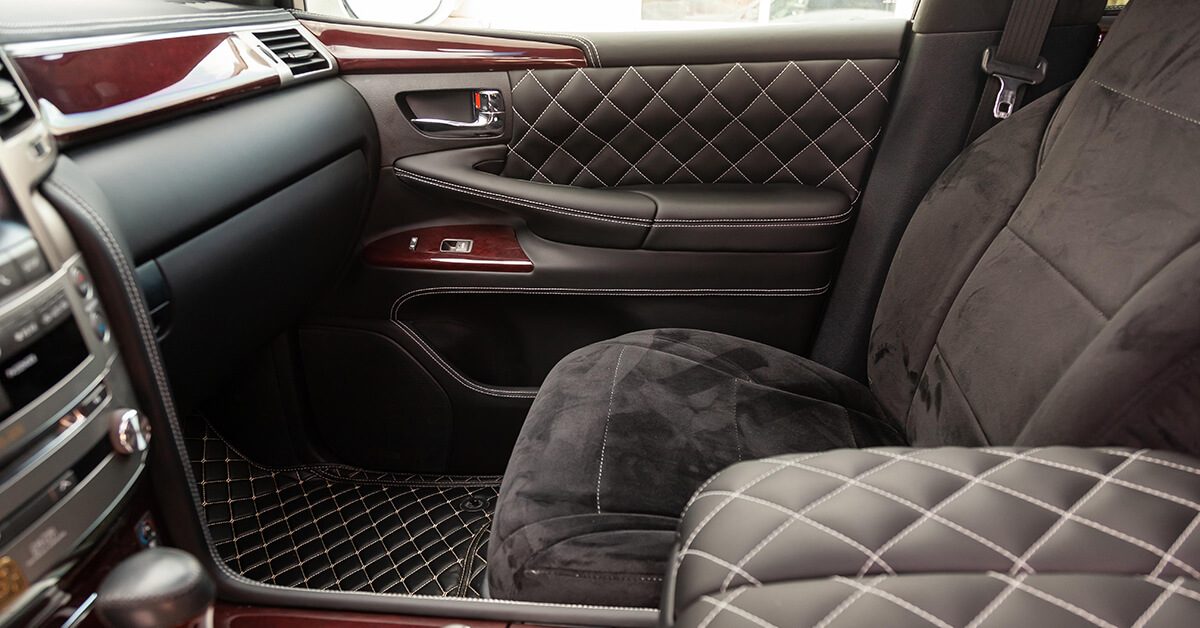 Custom Car Mats: Why Customize Your Car Floor Mats?
A beautiful car is not solely about exterior looks. Its interior matters, too, more than you would think, as not only does it complement it esthetically, but moreover it offers overall greater comfort. Why not blend both style and convenience by opting for personalized car floor mats? There exist many different ways one can go about customizing them as well! In the following paragraphs, we will show you why reviewing your car interior by getting new high-quality mats tailored to your liking is both a great idea and a sound investment. 
Most standard car flooring mats are unsuitable
Let us be frank: most car floor mats are not only functionally limited and inelegant but inappropriately match the true character of a car, generally speaking. You will have understood by now that, if particular attention needs to be paid to the interior dimensions for better comfort, it is as primordial that the mats harmoniously fit the general feel of the car.
However, that said, do not ever forget to take practicality into account just as seriously. Rainy climates, as an example, or owning a particularly furry dog, should naturally bring you not to choose mats made of needled felt or any material that would soil rapidly.
Custom car floor mats make your vehicle unique
Above all protective, as it absorbs humidity, collects dust particles and soil, a car floor mat is also a decorative piece of any car interior. As such, why not go a step further and get one made that perfectly encapsulates your taste?
When used extensively, a car interior should be doubly comfortable and nice-looking. What better way to make it enjoyable as well as useful than laying your assorted custom mats? Made upon request to neatly fit, they will embellish and protect your car altogether. There will be no more play between the flooring and newly-adjusted floor mats, all in all, making for better stain prevention and maximum protection. Plus, customizable mats offer a wide range of design possibilities.
Rubber or leather floor mats: you get to choose the material
Design options are aplenty, as we have already seen, and so is the variety of materials car floor mats are made of. Rubber car mats, for example, are an item of choice for rainy and muddy climates, as they are a lot easier to clean. While velvet-based mats are noticeably more esthetically pleasing, carpet car mats are more easily washable.
Realistically, what to choose is up to you: PVC, fabric, leather, you name it! Your preferences and needs, the use you make of your car, and most importantly, the budget at your disposal will all dictate the type of custom car mats best suited for you.
You get the best floor mat for your car
As opposed to the devil, the key is in the details, this time around.
Choosing the best-fitted mats
is by all means not an easy task, as it requires that you pay close attention to the practical side of things while not losing sight of the visual aspect of the result. As far as comfort goes, newer mat models come with a non-slip feature, which ensures a tighter grip for a smoother driving experience. While some models are designed to suck up all the moisture and humidity, other pet-friendly options are also available. Now that the practical aspect of the matter is out of the way, esthetically speaking, one might want to add diamond stitching to their car floor mats for an extra customization touch.
You get assorted full car floor mats
When getting custom car floor mats made, you might want to make sure both yours and the passengers' are not only of similar style but also designed to suit the specificities of your car model, be it Toyota, Chevrolet, Jeep, or BMW mats. Non-slip features are equally important, as a slipping mat can prove dangerous while driving.
 When it comes to embroidered mats - an all-time customer favorite - complementary colors are to be kept in mind! There is nothing as visually displeasing as color palettes incompatible with dominant tones. Generally, one cannot go wrong with black mats stitched with red thread. More sporty or luxurious cars can allow for a little more daring imagination.
Finding custom-fitting floor mats is easy!
Needless to say, standard-sized, easy-to-set-up mats are widely available on the market for a fraction of what a custom order would normally cost. However, while the process can be relatively pricey, having car floor mats customized to precisely and stylishly fit your car interior is the way to go for anyone willing to enjoy the newly-found comfort and fine features of their car. A quick internet search will get you to the best custom car floor mat provider for the most affordable price. You will then be able to oversee every aspect of the process and pick any material, embroidering, and color palette you like.
From luxurious floor mats to trunk weatherproof mats for dog owners, you will find everything you were looking for on our website. So welcome, and do not hesitate to shoot us a message!