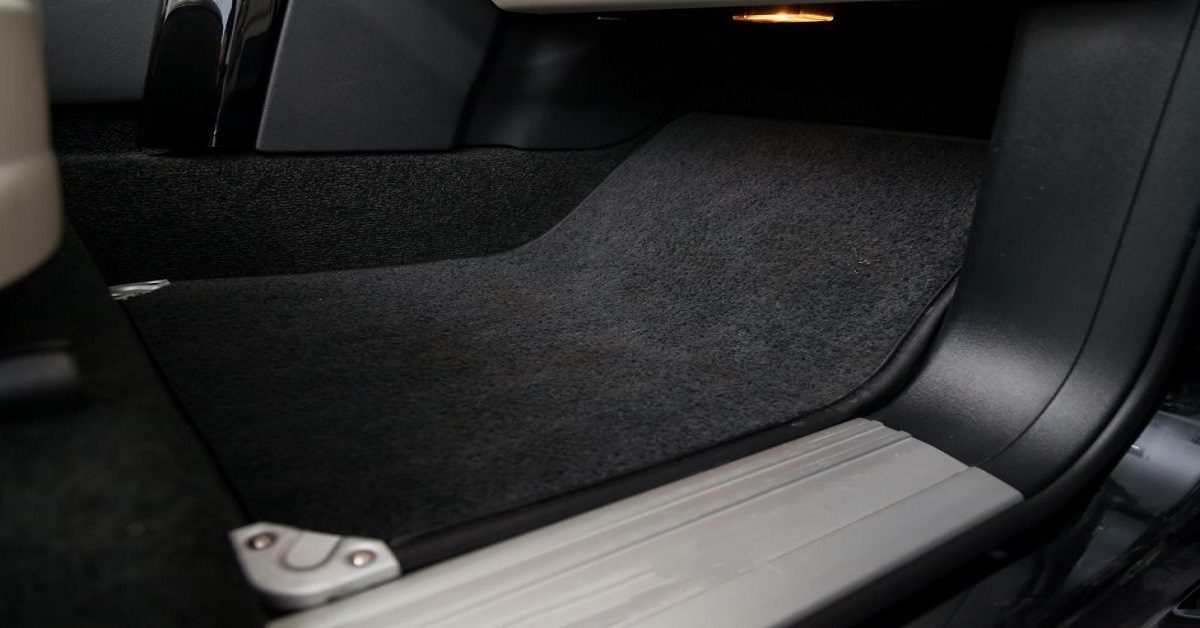 Everything There Is To Know About Mats For Cars!
An essential piece of one's car accessories, classic widely-available car floor mats often come in the shape of a rubber-reinforced fabric set of rugs. Their most important purpose is to shield the more fragile car flooring underneath against tearing and soiling and prevent your feet from slipping while driving.  
Grey Leather Car Floor Mats Set
But more than a simple accessory, when custom-fitted to your car model or designed more elegantly to complement your interior, floor mats make for a great personalized fashion statement. Available in as many different versions and materials as there are distinct types of use, car mats - whether made of velvet or plastic for heavy-duty rides - can add to the comfort or security of your car interior!
What Are Car Floor Mats For?
Not only do car floor mats secure the driver's feet onto the pedals and serve as a protective layer against repeated heel friction, but they generally come in a one-size-fits-all standardized format that fits most car interiors. Although custom-fitted car mats are preferable, as they are tailored to the exact dimensions of your car flooring, universal ones are a decent option for drivers on a noticeably tighter budget. While undoubtedly better, the former option is pricier and requires drivers to purchase a complete set. The latter, however, allows for more liberty, as floor mats can be bought separately.
Known to be resistant and long-lasting, fitted or not, extra-padded or plastic-made car floor mats are to be preferred regardless of car model type.
How To Pick The Best-Suited Mat For Your Car?
Choosing the right car floor mat is more often than not an unpleasant hassle, as there are countless models available on the market, all with their twists and boasting features. Plus, you will be sure to get the driver's floor mat replaced more than you ever will have the passengers'. When it comes to purchasing car floor mats, the two overarching golden rules are:
Not to fall for cheap advertisement gimmicks;
Look for sturdiness and material quality.
Out of the many, favored materials drivers are presented with, you will often see:
. Rubber Car Floor Mats
All-weather floor mats are often made of rubber, as the stretchy material can not only take a beating but is moreover resistant to staining whenever weather conditions get noticeably worse. Ideal for heavy-duty drivers looking for a material that can withstand the abuse while offering a long lifespan, rubber car floor mats are also easily cleaned up and stand the harshest cleaning chemicals.
Anything ranging from sand, dirt, and melted snow to soggy leaves and pet hair gets picked up by the many nooks and crannies of rubber mats, making dusting it all off child's play. Not only that, but their many ridges offer proper anti-slip protection, making rubber-made car floor mats a widely successful item.
. Polyurethane Car Floor Mats
These types of mats are manufactured with a much lighter rubber-like material. While less sturdy, in comparison to 100%-rubber mats, these have heat-resistant elastic properties that allow them to stand temperature variations well. They fit a wide array of interiors, from Toyotas to Kias, and come in a large spectrum of colors.
. Felt Car Floor Mats
The main selling feature of these mats is their absorption capacity. Stains that would otherwise be visible and penetrate deeper into the material of other mats get picked up by the intertwining of felt fibers, allowing for easier maintenance and clean-up.
. PVC Car Floor Mats
Composition-wise, thanks to the remarkable elasticity of their short malleable fibers, polyvinyl chloride mats are closer to rubber or polyurethane: they show great sturdiness and resilience when exposed to all sorts of debris - dirt, sand, liquids, chemicals, etc.
. Polyamide & Nylon Car Floor Mats
Widely used in the fabrication of both carpets and rugs, and easy to wash up, this synthetic polyester blend is by far the softest to the touch. Much like rubber-like mats, these offer good adherence and toughness too, and they are not any more complicated to maintain.
You will have understood by now that, while standard options are aplenty and cater to all sorts of different drivers, investing in a custom-fitted set of floor mats can guarantee the extended lifespan and proper compatibility with your specific car model.
How To Maintain Car Floor Mats?
All-plastic car floor mats and sets of mats partially made of plastic or rubber are to be cleaned with a corresponding washing product or simply with some water. Usually, people prefer using car floor mat cleaners in the form of sprays. However, many contain corrosive alcohol that can be especially damaging to plastic, as specified in our guide to car interior cleaning.
Felt or rug-like mats are best maintained by vacuuming or brushing, which prove highly effective in removing dried-up stains and eliminating dust. Soiled light mats can be cleaned with the extra help of some stain remover.
Customize Floor Mats For Your Car!
Be it diamond-stitched leather for a more luxurious feel or custom-fitted weatherproof mats for everyday drivers, getting a customizable set made is a much better alternative to any of the available one-size-fits-all types on the market. Not only do custom-fitted mats look better, but they also feel comfier!
Lux Auto Mat is the car floor mat specialist for your customizing needs! BMW, Jeep, Mini Cooper, Kia, Chevrolet, Toyota: whatever the car model, we have got a wide selection of custom options to present you with! Feel free to head over to our online catalog of luxuriously fitted mats or shoot us a message for more information regarding our services and products.