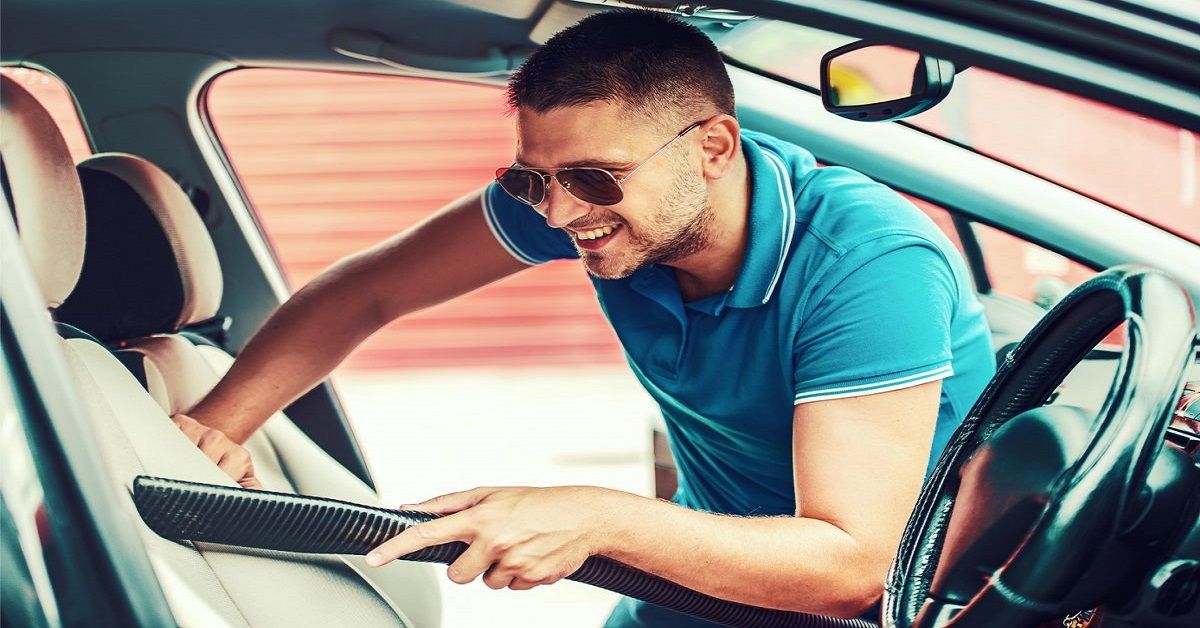 What Are The Best Car Cleaning Products For Stains?
More often than not, car owners tend to overlook adding fabric and carpet cleaners to their list of must-have car interior cleaning accessories. Understandably so, as a vacuum cleaner generally does the job in half the time needed to scrub around the vehicle interior. Why bother, then? But, while it is far handier, whenever stains start penetrating deep into the fabric, vacuuming away will not cut it, unfortunately! 
For your car seats, car floor mats, and interior to be all nice and clean, quality fabric cleaners specifically formulated to cleanse what vacuuming could not handle had best be added to your cleaning kit! Which product to choose, however? And how to go about cleaning your car floor mats, seats, and interior? Let us find out!
Ultimate Interior Car Cleaner To Add To Your Cleaning Kit
To best preserve your immaculate interior and maintain the feel and quality of all the textile items inside it, nothing beats a cleaning solution specifically designed for that purpose!
Fabric, carpet, and even leather, whatever the surface, there are plenty of cleaning products designed to handle the filthiest of all stains and most resistant of all grime. Many car seat cleaners of the sort combine one if not all of the following properties:
Active anti-odor components;
Like-new finish;
Zero-residue drying.
All of the above are great marketable features! But what car owners should look for, moreover, are products that will not cause discoloration. Bleach and ammonia-free eco-friendly formulas are not only biodegradable alternatives, but they get the job done just as well, for example!
Now, which is the best-performing and most suited product for your car model specificities?
How To Choose Your Car Seat Stain Remover?
When it comes to selecting a liquid cleaner that combines the aforementioned qualities, one must be particularly meticulous. To help you get a clearer picture of what to look for, start by thinking of:
Your car interior fabric type:
As there is no lack of stain remover options on the market, you had better prioritize the most suitable cleaner for your car interior features. Not all products are multi-surface compatible, however. For example, while some are great for the stain removal of every seat material available, others, which are supposed to be used on specific types only, such as fabric, leather, or leatherette, will produce either mediocre or downright damaging results if misused.
To better avoid unpleasant surprises and maximize comfort, look for cleaning products that will give your car interior fabric pieces or custom-fitted mats a deep clean while gently revitalizing their colors.
The composition of your car floor mat cleaner:
Maybe you were diagnosed with an allergy to a specific chemical compound. Perhaps you cannot stand certain smells. If so, never overlook the listed ingredients at the back of the product you plan on buying, some of which can sometimes be excessively corrosive or even harmful!
Once again, eco-friendly cleaning options are widely available and come with more reasonable chemical alternatives at controlled and tested dosages. That being said, whether environmentally-friendly or not, your best bet is to always favor mild cleaning products over caustic ones.
While most seat and mat cleaning products feature an easy-to-use and ergonomic spray-nozzle with a dual-action trigger, some do not. It is worth considering the best-suited type to your liking. One widely popular form is pulverizers or sprays, which facilitate product application.
NOTE: When spraying your cleaning solution onto your roof headliner, make sure you have got a microfiber cloth within reach, as spraying the surface directly is a recipe for disaster almost every time!
The noteworthy features of your stain remover:
It is always a non-negligible plus to have a one-of-a-kind cleaning product. Beyond doing what it is meant to, it is an extra advantage to own a cleaner that additionally works as a conditioner or enhancer. Not only is it a protective treatment but it also adds to the overall resell value of your car! If it even neutralizes odors, you have got yourself a winner! Lastly, owning said all-in-one cleaning product will help cut your expenses tremendously!
How To Use Your Car Detailing Kit?
When utilizing a fabric cleaner, one needs to take all necessary precautions. Fortunately, most shampoo gel, foam, and liquid cleaners come with instructions detailing the steps for proper use, which roughly go as follows:
N°1. Before applying the product, vacuum clean thoroughly to suck up all eventual gravel, dirt, and surface soiling. Once that is done, the next move is to cover all parts of the interior - windows, dashboard, etc. - to protect them from involuntary splashes.
N°2. Shake well before use. When applying, keep the spray nozzle at a sufficient distance from the area you wish to clean. Always test the product out on a small, less visible part before proceeding with delivering an equal amount of the active cleaning solution on the rest of the surface.
N°3. After letting the cleaning mixture rest for a good 5 minutes, work it into the fabric with the help of a soft-bristled brush. Do not be discouraged by resistant stains: repeat the same process until it is gone entirely!
N°4. Lastly, let it dry up thoroughly. Should you have one, do not hesitate to coat your seats, carpet-made mats, and other fabric items in your car interior with whatever protective product you might have.
Best Car Upholstery Cleaners To Get
Be it 3M Auto Care, Meguiar's, Adam's polishes carpet & upholstery cleaner, Armor All, or Car Guys super cleaner, the most important and determining criteria to be taken into account are to:
Opt for a cleaner best used on the specific surface type of your car seats, floor mats, and roof headliner.
Choose a cleaner whose ingredients will not trigger an allergic reaction.
Buy the best-suited cleaner for the type of car interior cleaning you wish to undertake. Favor products whose degreasing formula eliminates odors. Look for one that leaves no residue, has a pleasant or neutral smell, and coats treated surfaces with an antibacterial solution.
Here you go! You should now be acquainted with car interior cleaners well enough to make an educated decision when running your next errand! Should you want to know more about our custom car floor mats, feel free to shoot us a message!