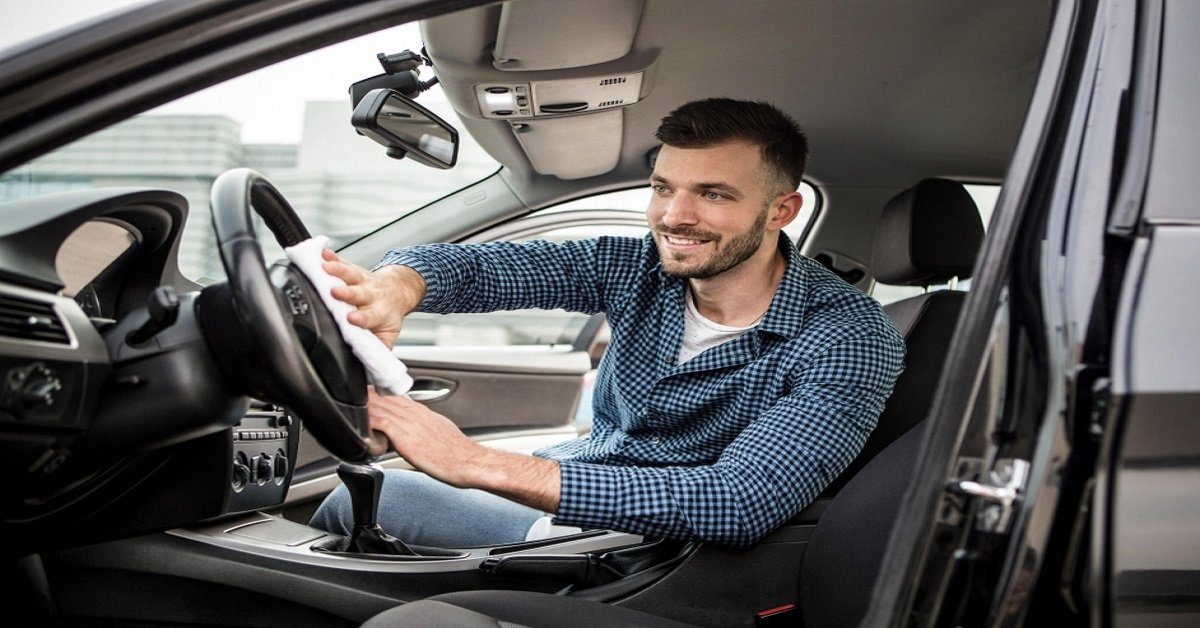 Your Guide To Car Interior Cleaning
Nothing makes for a smoother car ride than a seemingly spanking new interior! How to give your leather or cloth seats, the plastic components of your dashboard, your set of floor mats, and windows that shiny and fresh look, however? You will find all the necessary hints and tips for a spotless car interior below!  
Main Car Interior Detailing Steps
For a fully healthy and pristine car interior, nothing beats regular care! You must thoroughly clean your interior and allow it to breathe every six months or so. As a general rule of thumb, proceed in the following order:
N°1. Vacuum clean all surface debris;
N°2. Remove all carpet, floor mat, and seat stains;
N°3. Polish the dashboard and plastic parts;
N°4. Wipe the windshield, lateral, and rear windows.
To get it underway, you will need a minimum of adequate cleaning gear.
N°1. Vacuum Clean Your Car Interior
As stated above, your very first task consists of vacuuming all the nooks and crannies dirt, crumbs, and soil have gotten stuck into. Switching nozzles if need be, make sure you suck up all the debris most commonly found on:
The seats;
The back seat;
The floor mats;
The carpet underneath;
The trunk;
The surroundings of the gear lever.
Why Use A Car Upholstery Cleaner?
While a swift vacuuming session does it for most, there are several reasons why car fabric cleaners may come in handy. Sure, vacuum cleaners will rid you of all surface dust and filth, but they will not be able to deal with embedded stains. Grease, oil, coffee, and makeup stains have a habit of penetrating deep into your car interior fabric, staying entirely out of reach of your vacuum cleaner.
As they prove useless in that specific situation, you will need to gear up if you want your interior to look new again. The more you wait, the deeper these stains will get into the fabric, causing your seats and mats to lose their color brilliance, feel, and sturdiness.
N°2. Deep Clean With A Car Fabric Cleaner
Car interior detailing goes hand in hand with upholstery cleaning. Make sure you do not skip on any of the following, then:
The carpeting
After taking off the protective mats, setting them aside, and vacuuming the floor completely, it is time to apply a car carpet shampoo or spray to it. These products are made to prevent your car flooring from soaking wet, which leads to moss overgrowth.
Most cleaners work more or less the same. You might need to do a little bit of scrubbing with a hard-bristled brush to allow the formula to work its magic.
The floor mats
Mats are meant to offer protection for the car carpet underneath and support for your heals when cruising around. There is a wide range of them, from one-size-fits-all rubber ones to custom-fitted leather-made car floor mats. To make cleaning them easier, take them out of your interior. If they are made of carpet, feel free to apply the same cleaning formula.
The car seats
For every problem, a solution:
- For pet hair: Adhesive roll cleaners will do wonders.
- For vomit (that happens): You would be surprised to see how surprisingly effective sparkling water is!
- For stains: What are the best car cleaning products? Well, the choice is yours! There are as many dedicated cleaning formulas as there are homemade recipes. Mixing water, dishwashing soap, and white vinegar, or even combining water with baking soda or ammonia are among said recipes.
Given that water can damage leather surfaces, avoid it at all costs and favor leather seat cleaners, such as car interior wipes, which will better preserve their luster.
Homemade Car Interior Cleaner
While Chemical Guys' interior cleaner, Meguiar's interior detailer, or 3M car interior foaming cleaner are well known, always test your homemade cleaning batch first, should you wish to take the homemade approach!
N°3. Clean Your Car Interior With A Dashboard Cleaner
The car door panels
Start scrubbing from the bottom, as it is often the dirtiest part of your entire interior. Get yourself a soft-bristled brush or a sponge and some soapy water. Rinse off any excess soap with your squeezed-out sponge and blot everything dry with a lint-free cloth.
The dashboard
Dampen your lint-free cloth with a little bit of water or preferred dashboard cleaner and pass it all over, except on the odometer and other electronic parts. Dust these off with the help of a microfiber cleaning cloth.
For spots that are more difficult to access - the air conditioning vents, for example -, you can get a soft-bristled toothbrush.
The steering wheel and gear lever
 Along with the door panels, both the wheel and gear lever are the parts most in contact with your hands. Use either a dashboard cleaner or a mixture of water and soap to degrease them. Once you are done, use your lint-free cloth to dry them up.
N°4. Clean Your Car Windshield And Windows
Last but not least, use that same lint-free cloth and some car glass cleaner to wipe all the windows. To avoid making a mess, apply the product directly onto the rag. For the rear windshield specifically, and to not damage the secondary defrosters, make sure you wipe lengthwise.
We hope you will have enjoyed our short car interior cleaning guide! Should you want to know how to extend your car floor mat lifetime or be interested in having your set of custom-fitted mats for your Jeep or Toyota made, feel free to contact us!